Leadership Team
of Abundant Life
Dan Tabolt
Lead Pastor / Senior Elder / Church Founder  alfboonville@gmail.com
Dan has been with Abundant Life since it's establishment in 1987 and is the founding Pastor.  He is a gifted speaker, musician and prophet.  The Lord has opened doors for him to both oversee many other churches and help lead other church plants. Dan and his wife JoAnn have 4 grown children and many grandchildren.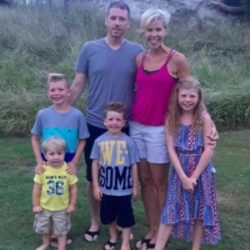 Brandon Pitts
Pastor / Elder
brandon@getabundantlife.com
Brandon has been on staff at Abundant Life since 2009 and as a Pastor at Abundant Life since 2013.  Brandon is a gifted communicator and has a passion to see people experience the transformational power of the Gospel.  Brandon also helps local churches and non-profit organizations develop marketing strategies and online tools to further their organizations.  He and his wife, MaeLeah, have 4 children and live in Boonville.
Rob Wendt
Elder

wendtski@frontiernet.net
Rob Wendt has been an elder at Abundant Life since 2007.  He and his wife, Cindy, are wonderful encouragers and have a heart to help hurting people.  They oversee our congregational care ministry and assist in meeting needs that arise both within our congregation and our community.  Rob and Cindy have 2 daughters and live in Constableville, NY.
 Andrew Huntress
Elder
andrew.huntress@gmail.com
Andrew has been an elder since 2013 and has served in various other ministry capacities over the past decade at Abundant Life.  A gifted teacher and encourager, Andy challenges people with his unique insights into the Gospel.  Andy and his wife, Lydia, have 2 children and live in Lyons Falls.
Pam Smith
Church Administrator
pam.smith@getabundantlife.com
Pam has served as the church administrator since 2005.  Pam has a gift of administration and is a wonderful help to the different ministries and leadership at Abundant Life.  Pam and her husband, Bill, have 1 grown son, and live in Boonville.
MaeLeah Pitts
Worship Leader
maeleahruth@yahoo.com  
MaeLeah has been a part of Abundant Life since it was founded in 1987.  She has served in various ministry capacities over the years.  She is a gifted speaker, musician and has a strong prophetic gifting.  She has been our worship oversight at Abundant Life since 2006.
Still have questions about Abundant Life?